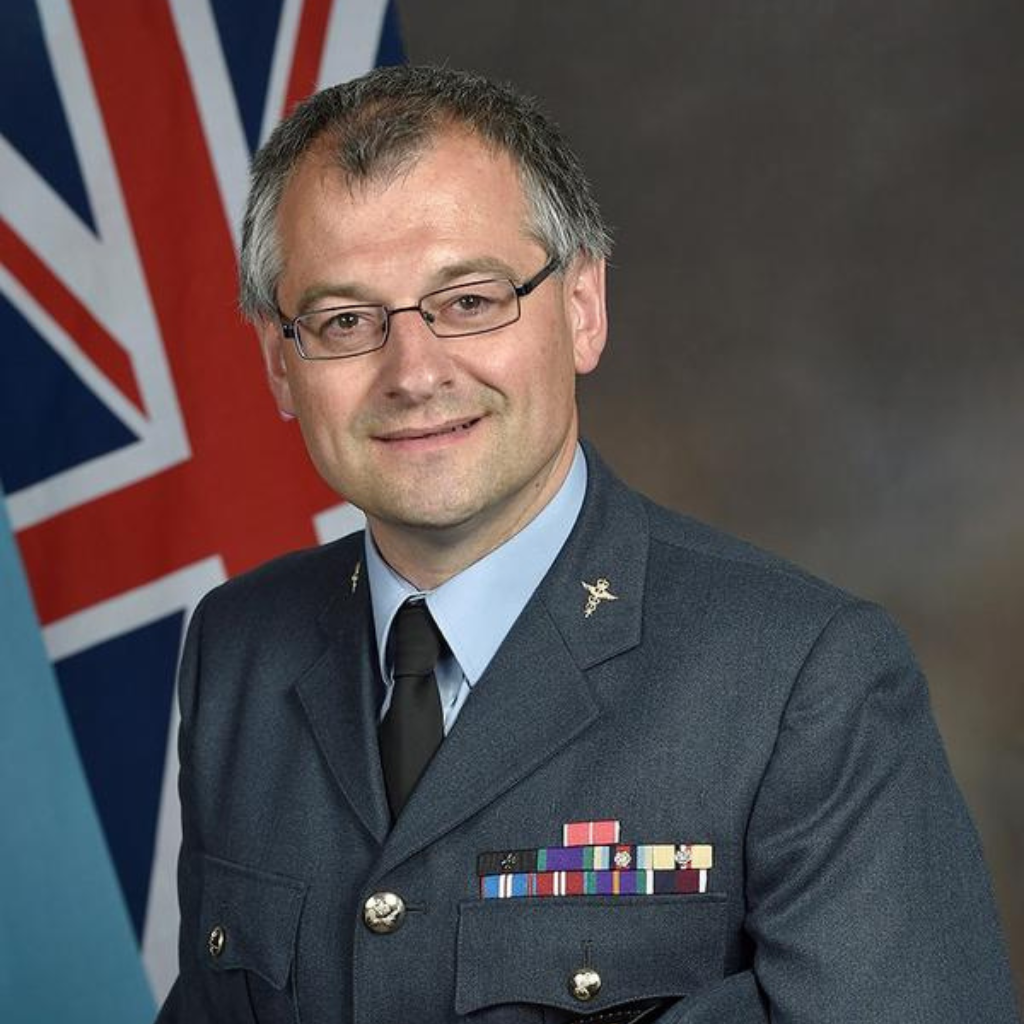 Air Vice-Marshal David McLoughlin CBE KHS MstJ MB BCh BAO MSc FRCP FFOM FFOM(I) MRCGP DRCOG DFFP DAvMed psc(j) rcds

Director of Defence Healthcare
David McLoughlin joined the Royal Air Force in 1988 as a medical cadet. Medically qualified for over 30 years, McLoughlin initially trained as a General practitioner before undertaking further training in Occupational Medicine and leadership.
Group Captain appointments included President of the RAF Medical Board, DACOS Aviation Medicine, and AH Medical Commitments in MOD Main Building. He took up the post of Defence Medical Services Regulator on promotion to Air Commodore on 27 Mar 17. From Dec 18 he was AO Medical Operations and Commandant of the RAF Centre of Aviation Medicine. He was Head of the Royal Air Force Medical Services during the COVID-19 pandemic. McLoughlin thoroughly enjoyed RCDS from 2021-22. He completed the role of Director of the People Programme at HQ DMS in Jun 23 prior to taking up the post of Director of Defence Healthcare on promotion to Air Vice-Marshal.
McLoughlin is a Fellow of the Faculty of Occupational Medicine and a Fellow of the Royal College of Physicians. He won the Stewart Memorial prize in 1999, the Royal Society of Medicine research prize in 2000 and the John Ernsting prize of the US based Aerospace Medicine Association in 2017. His operational experience includes Northern Ireland (a home tour), the Falkland Islands, OP TELIC and OP HERRICK (3 tours). He was awarded the Order of St John in 2005, the Order of the British Empire in 2014 and made a Commander of the British Empire in 2022. He has served as the Director of Assessment for the Faculty of Occupational Medicine and President of the Society of Occupational Medicine. He was appointed a Queen's Honorary Surgeon in 2017 and a King's Honorary Surgeon in 2022.
David is married to Anna, a consultant physician at Cambridge University Hospital, and he has two daughters. His interests include mountain walking, skiing, flying and gardening. He is a chair and trustee of several charities.